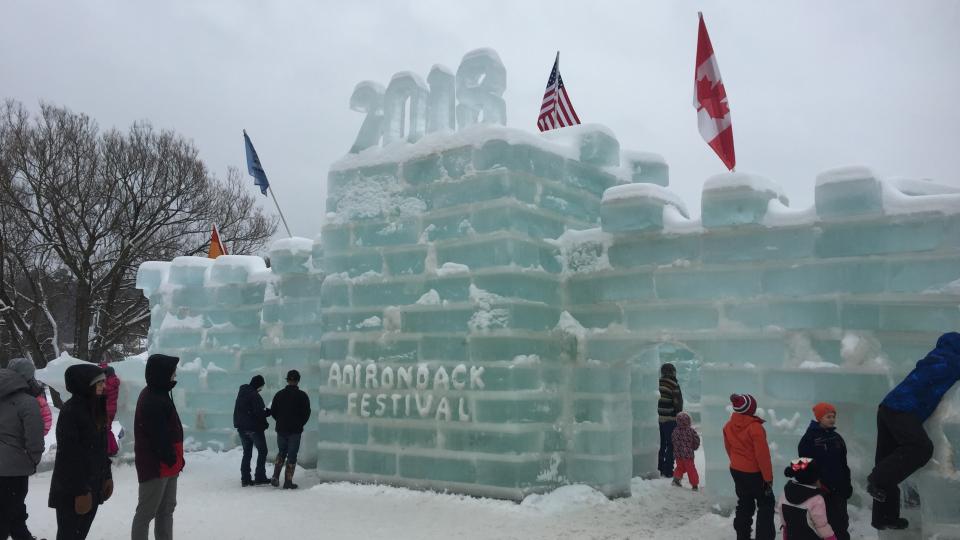 Winter Events
FISU World University Games
For eleven days, Lake Placid will house the largest winter multi-sport collegiate athletic event in the world. This international festival and competition combines high-level sport with educational and cultural events, all taking place in Lake Placid and nearby towns.
Holiday Fair at Oak Mountain
This annual one-day holiday fair is a great time for those with children. Santa will make an appearance and kids will have a chance to win fun prizes with a gingerbread house building competition. There will be live music, vendors, crafts, and a Festival of Trees silent auction. Join us at Oak Mountain on December 6th!
Chirstkindlmarkt, Glens Falls
A magical Christmas market in downtown Glens Falls! Christkindlmarkt is a European-style Christmas festival that as a unique Adirondack flair. The event will include live music, activities for kids, food vendors, and local artisans selling their homemade and handcrafted gifts. 
Lake Placid Holiday Village Stroll
One of the most beloved Lake Placid traditions is the Holiday Village Stroll. Every December, the village comes alive with holiday spirit. During the Holiday Stroll, visitors and locals can expect fun activities for kids, a chili-chowder Main Street cook-off, wine tastings, craft making, live entertainment, and multiple Santa sightings, including his entrance to Main Street on a firetruck! For added fun, skiers and boarders at Whiteface receive free lift passes if they show up dressed as Santa!
First Night Saranac Lake
If you're looking for a safe, family-friendly way to celebrate the turning of the New Year, come out to First Night in Saranac Lake! With live entertainment at venues all around the village and food concessions at various locations, First Night goers will have plenty to do to keep busy while awaiting the countdown to midnight. Cap the night of festivities off by ringing in the New Year with a fantastic fireworks display over Lake Flower!
Phil Edwards Hockey Tournament, Tupper Lake
Are you an adult hockey player looking for a fun tournament to play in this winter? Come to the Tupper Lake Civic Center and join a team for this annual memorial hockey tournament. This is primarily an 18+ male tournament event, however coed teams are welcome.
Funky Ice Fest, Lake George
Join us at the Adirondack Pub & Brewery for two weekends of funky ice fun! Not only is everything made out of ice, but it's also BYOV (bring your own vinyl) so you get to decide what music is played! Warm-up by the bonfires, chow down on great food from the food truck, and enjoy winter-inspired cocktails, all while being surrounded by ice. This seriously cool (no pun intended) event is family-friendly, dog-friendly, and handicapped accessible so everyone is welcome to join the fun!
Glacier Ice Bar & Lounge at the Sagamore
Ice bars are a popular thing in Lake George! Bundle up and visit the Sagamore Resort for their Glacier Ice Bar & Lounge this January & February and enjoy seasonal cocktails, ice sculptures like you've never seen, and warm delicious chowders and chilis. They call it the "hottest and coolest lounge" in the Adirondacks and for good reason. Have a glacially good time!
Empire State Winter Games
Calling all winter sports enthusiasts, aspiring athletes, and spectators alike! The Empire State Winter Games returns to the Lake Placid area this year with so many sporting events to choose from, including bobsledding, figure skating, adaptive skiing, and hockey. This multi-day sports event is a one-of-a-kind week that will get kids excited about their futures' in winter sports. Events take place at multiple venues and in multiple towns, so be sure to check the official ESWG website for a schedule of events!
Saranac Lake Winter Carnival
A time-honored Adirondack tradition dating back to the late 1800s, the Saranac Lake Winter Carnival is an event not to be missed. The town waits all winter (or all year, if we're being honest) for this two-week event to return and we don't blame them! There's live entertainment, unique competitions like frying pan throwing and curling, races, characters, kids activities, a huge parade, and impressive fireworks displays throughout the week. And who could forget the centerpiece of it all, the infamous Ice Palace built from blocks of ice taken straight out of Lake Flower! It's an event that you'll always remember and hey, it might just become your own winter tradition to attend!
Remington Wine, Beer, Cheese, Chocolate, & Artisan Festival, Ogdensburg
If you're in the Ogdensburg area in early February, consider a visit to this food tasting and shopping festival. Admission is $5 per person and gets you into the Frederic Remington Art Museum for this unique event. You can sample wine, beer, cheese, chocolates, and more and browse and buy handcrafted artisan goods.
Northern Challenge Ice Fishing Derby, Tupper Lake
The first Saturday in February is a perfect time to visit Tupper Lake for the annual Northern Challenge Ice Fishing Derby. With over $40,000 worth of prizes to be won between competition and door prizes, attendees won't mind braving the cold for a day of friendly competition. If you're an avid angler, you won't want to miss this event!
Lake George Winter Carnival – every weekend in February
Visit Lake George's Winter Carnival, hosted every weekend throughout February. Each weekend there will be unique events including a Polar Plunge, outhouse races, various food cook-offs, and activities for guests of all ages. With so much to do and see, you'll want to make a long weekend out of it, or maybe even two! Winter Carnival offers wonderful events, including firework displays and dog talent shows. Don't miss out on this Adirondack winter fun!
White Out Winter Weekend
White Out Weekend, an annual winter festival held on President's Day Weekend in the Western Adirondack community of Clifton-Fine, free and fun for the whole family! Including outdoor recreation, music & arts, food, crafts, interactive presentations, kids activities, snowmobile-accessible events and so much more!
SnoCade in Indian Lake
Visit the village of Indian Lake this President's Week for a community winter celebration. Past years have included community plays, craft fairs, demonstrations, snowshoe excursions, and fireworks displays. Participants are frequently seen zooming around on snowmobiles from activity to activity. If you're looking for a fun snowmobiling escape in the Adirondacks this winter, SnoCade is the event for you!
The Brew-Ski/Fire & Ice Golf Tournament, Tupper Lake
This unique event at the Tupper Lake Cross Country Ski Center is perfect for snowshoers and cross country skiers who love craft beers. Ski or snowshoe between various brew stations hosted by Adirondack breweries and sample delicious brews. Golfers, are you waiting anxiously for Spring to return so you can get back out on the links? Well bring your clubs, a team of three, and participate in our Fire & Ice golf tournament! The Brew-Ski in Tupper Lake is a February event not to be missed.
Brant Lake Winter Carnival
A blast on ice on beautiful Brant Lake. The Brant Lake Winter Carnival features outhouse races, dog sled rides, broomball tournaments, horse-drawn carriage rides, and so much more. Enjoy music, food, and beverages throughout the day and cap off the winter fun with fireworks at dusk!
Frozen Fire & Lights/Cardboard Sled Race, Inlet
Celebrate Leap Year Day in Inlet, NY at Frozen Fire & Lights, a day dedicated to winter fun for families and friends. Enjoy free sledding, ice skating, snowshoeing, and cross country skiing at Fern Park, as well as the crowd favorite Cardboard Sled Race. Throughout the day there will be food and beverage tastings around town, face painting and crafts, kite flying, live music, and fireworks at dusk.