Winter hiking in the Adirondacks promises unmatched solitude. Deep snow speeds progress through rugged terrain, but subzero temperatures, hurricane-force winds, and limited daylight hours introduce new challenges to trekkers who visit between December and March. Adirondack hiking trails beckon with adventure even in winter and most trails are open for recreation. Before setting out, check the DEC's website to find out if there are any avalanche or storm warnings. Be safe. Prepare for the changing elements so that you can safely enjoy the beauty of winter hiking in the Adirondacks.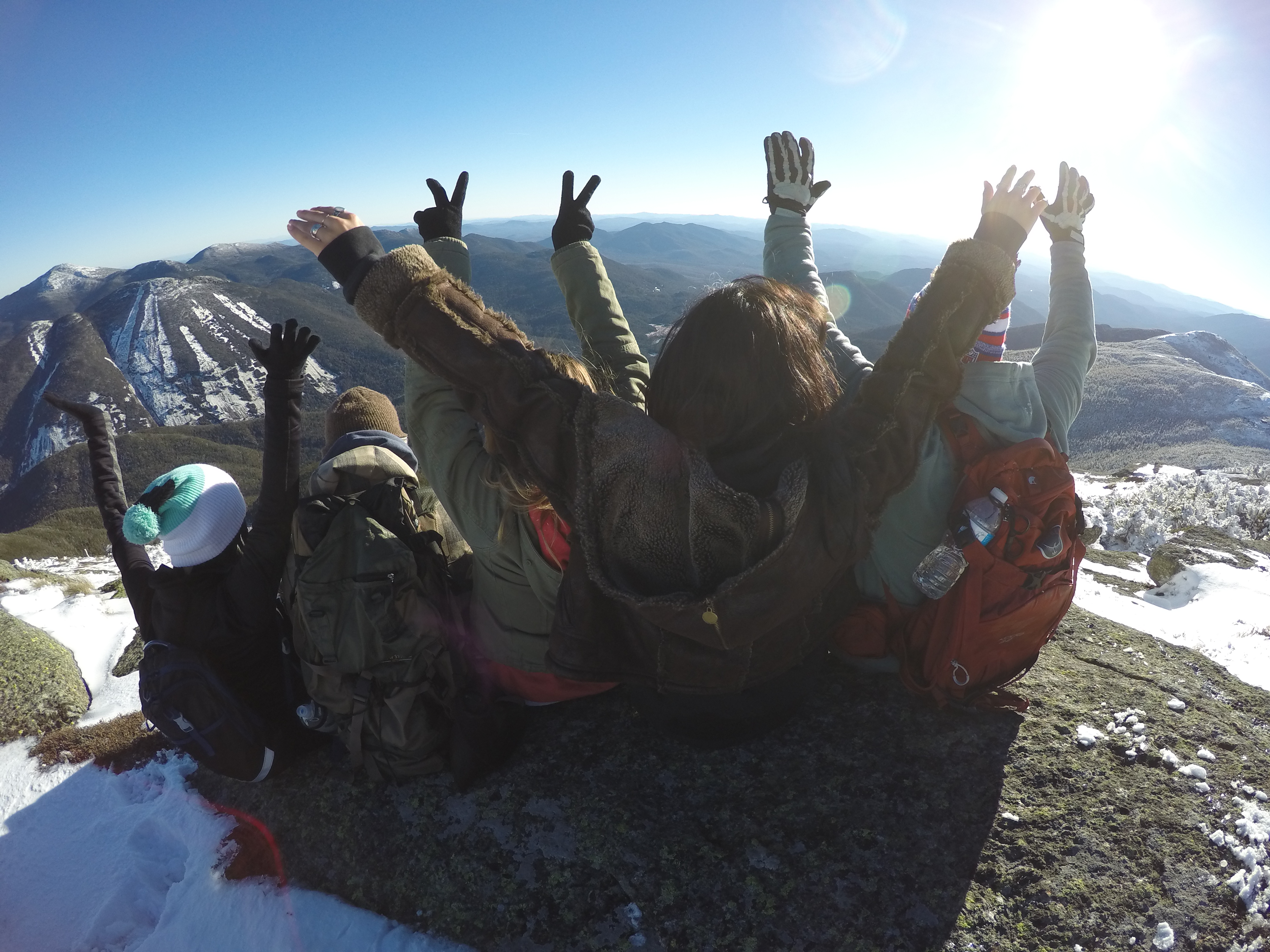 Whiteface Mountain
Located in Wilmington, it is a relatively difficult winter hike climb, with a moderately trafficked 9.3 miles out & back trail to the summit (4,867 feet in elevation). Presents incredible 360-degree views on a clear day.
Scarface Mountain
In Ray Brook, this mountain is considered a Saranac 6er and requires a 7.4-mile out and back hike. The summit is enclosed with trees, but the trail itself is rather moderate for winter hiking in terms of difficulty.
Giant Mountain
Located near Saint Huberts, this is one of the most popular of the High Peaks due to its views. It is rated difficult and consists of a 6-mile out and back trail.
Pitchoff Mountain
Find this mountain near Keene and take the 3.9-mile hike to the top for views of the Great Range in the High Peaks region. This trail is moderately trafficked and is less difficult than others in the same area.
Cascade Mountain
By far the most popular trail in the High Peaks region, Cascade is located near Lake Placid and offers a 5.6-mile out and back hike. It is heavily trafficked during a large majority of the year.
Haystack Mountain
Another Saranac 6er located in Ray Brook, Haystack's trail is 7.2-mile out and back and is moderately trafficked. Offers great views of both Lake Placid and Saranac Lake.
Ampersand Mountain
Also a Saranac 6er, Ampersand is located outside of the town of Saranac Lake and offers 360-degree views of the surrounding area at its rock-based summit. It is a fun & challenging 4.8-mile out and back trail.
Try the New York Adirondack mountains for some of the best winter and snow hiking in the world!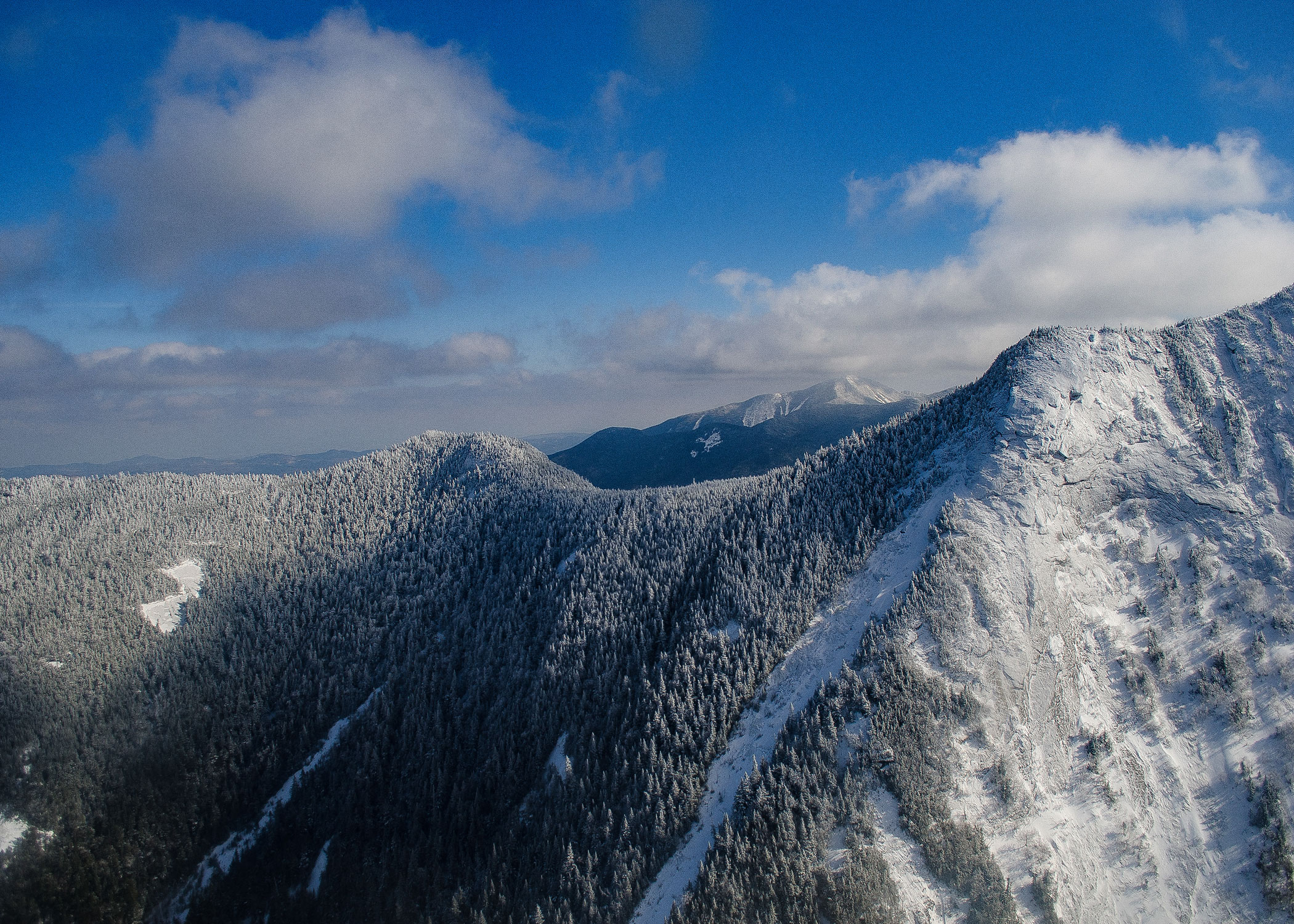 How to Be Prepared for Winter Hiking
1. Stay Dry & Warm
Base layer that is made of a wool blend, polypropylene, or polyester
Wool or synthetic fleece shirt fleece or wool jacket
Moisture-wicking/wool socks and dry spares
Winter hat with ear protection
Balaclava/facemask to protect from wind and cool
Mittens/gloves (preferably waterproof)
Insulated winter boots
Gaiters to keep snow out of your boots
Ski goggles to protect eyes from becoming "snowblind"
Hand and feet warmer packs
Staying dry is key when hiking in cold weather. Never wear cotton or jeans as they will retain moisture and could potentially lead to hypothermia. Moisture-wicking materials such as wool, fleece, and synthetics will transport sweat away from the skin, rather than holding it there. These materials will also dry faster. Wool socks will keep your feet comfortable, warm, and dry.
2. Wear Layers & Pack Extras
Waterproof pants
Waterproof jacket with a hood
Layering is important when hiking in the winter in order to meet a wide range of conditions and activities. Removing layers when you begin to sweat from physical activity is important as damp clothing will chill you when you stop moving. Having waterproof and windproof outer layers is important as the summits are often windy, and when combined with blowing snow, these conditions can cause hikers to become very cold very quickly.
There are three parts to layering; a base layer to wick moisture away from the skin, mid-layer to insulate from the cold, and soft or hard shell to offer protection from wind and precipitation. It is good practice to pack extra layers in your hiking pack so that in the event that you must stay where you are while waiting out blizzard conditions, you can change out of any wet clothing items and stay warm and dry.
3. Bring Proper Footwear & Traction Aids
Microspikes, Crampons, or snowshoes
Trekking poles for added support
Proper footwear and traction aids are critical pieces of equipment during any hiking excursion, but especially in the winter. Losing the ability to walk due to improper footwear, falls due to lack of traction, or exhaustion from having to post-hole through feet of snow will bring your hike to a fateful end.
In the Adirondack High Peaks Wilderness, snowshoes are required by law when there is 8 or more inches of snow. Snowshoes have a larger "footprint" to spread weight out over more of an area to prevent post-holing which will not only ruin a trail but, causes hikers to expend more energy, and run the risk of injury from sudden falls. Snowshoes will also have teeth for traction.
Micro-spikes should always be worn when icy conditions exist. Micro-spikes slip over boots and have teeth for traction in slippery areas. If you are ever unsure about whether or not you need micro-spikes, bring them. They are light and don't take up much room. It's better to have them and not need them than the alternative.
In extreme cases, crampons may be necessary to ascend trails where the ice is very hard and the incline is steep. Crampons fit over boots like micro-spikes but, have larger teeth, including teeth on the toe for added bite and traction.
4. Pack a Map, Compass, &/or GPS Device
GPS, Personal Locator Beacon (PLB), cell phone
Map and compass
A snowy summit can also cause hikers to become disoriented and lose the trail, thus the importance of having a map and compass and knowing how to use them. A GPS is also good to have but, putting all your faith in an electronic device can be risky.
5. Inform Someone of Your Hiking Plans
Being prepared for the unexpected is critical when hiking in cold weather. Having to spend a night in the woods without shelter, a means of communication, or ability to create a fire for warmth can lead to life-threatening conditions like hypothermia and frostbite. Always let someone know your plans for hiking, including:
where you will be hiking

when you will be leaving

from what trailhead you'll be starting and ending (if there is more than one option)

when you anticipate returning
Letting someone know when you expect to be back is crucial as it can reduce precious minutes someone is stranded. If you do not have a personal locator beacon, be sure to have a cell phone if there is a chance of having a signal. Always keep batteries warm so they don't lose power in the cold.
6. Pack Extra of Everything
Fire starting supplies
Heat blankets
Extra food and water
First-aid kit
Flashlight and headlamp with extra batteries
Cold weather-rated tent or bivy
Knife
Zip Ties and Duct tape for repairs
Sunscreen
Bring more than is expected when it comes to essentials like food and water, extra clothing in case clothes become wet and cold, first aid supplies, especially for foot-related injuries, and light sources in case the batteries in one stop working.
7. Don't Hike Alone
One of the best ways to prevent life-threatening situations is to never hike alone during the winter. Having a hiking partner who can assess and react to a situation can save lives and prevent a catastrophe. An example would be a hiker falling into a spruce trap and not being able to get out.
8. Check the Weather Before Starting Your Hike
Checking the weather can keep you from getting caught in a storm that you were not expecting. Always keep in mind though, that the weather in the Adirondacks is subject to extreme change in an instant. While it could be sunny at the start, as you make your way, it could turn into white-out conditions. It's good to be prepared for anything. Also, understand that the temperatures that are typically forecasted are not for the summit of the mountain you may be hiking, which could have a much lower temperature due to its altitude. If the forecast is predicting harsh weather conditions on the ground, stay home and plan your hike for another time.
Adirondack hiking in the winter can be a wonderful experience if proper precautions are taken and preparation is done. Stay warm, layer up, pack extras, bring a friend, and avoid harsh weather and you're sure to have a great time.