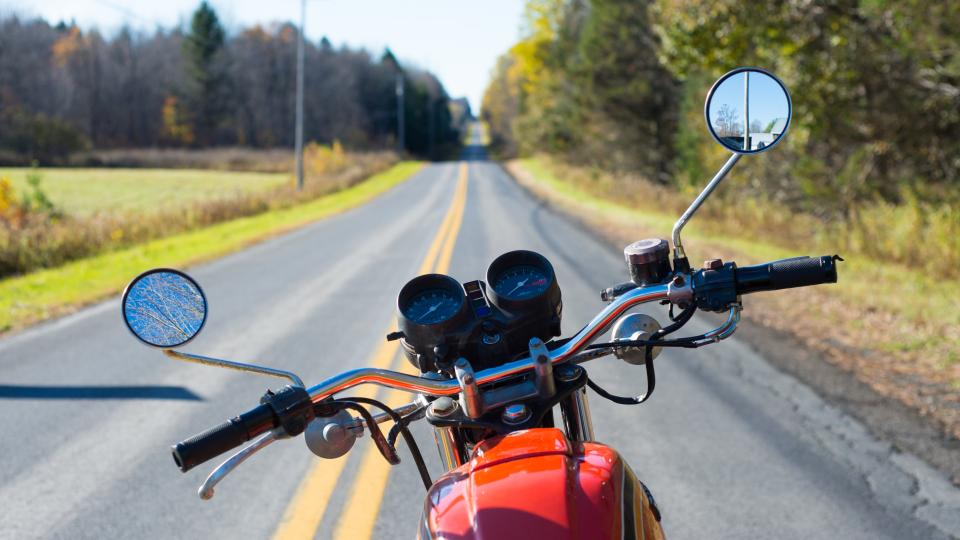 Leave the world behind and ride in the Adirondacks
Discover scenic country roads that piggyback along mountain ranges, through pristine wilderness areas and travel old logging trails. For a few dollars in gas - the six million acre Adirondack Park is yours to explore. Find quaint towns without stoplights or villages with more cows than people.
In the Adirondacks, there's never a rush to be somewhere, so you can sight-see and explore at your own pace. Find mile after mile of smooth Adirondack roadways winding through New York Mountains and unique attractions. As each season unfolds in the Adirondacks - new events, activities, and attractions are highlighted. Discover summer's lush greenery and family-friendly events, and autumn's colorful foliage and harvest festivals. 
Fourteen New York State Scenic Byways wind throughout the Adirondack Region, offering a variety of experiences. From the 140-mile Central Adirondack Trail, to the 17-mile Blue Ridge Road - you'll find an unspoiled landscape teaming with life. Glimpse wildlife, trace the distinct silhouette of the Adirondack Mountains and fish for trout in sparkling lakes and rivers.
Save Money at Motorcycle-Friendly Lodging
Lodging properties throughout the Adirondacks' six-million-acre park are motorcycle-friendly, offering special deals and discounts for touring bikers. Stay and lay for a night or a week, enjoy an evening meal at one of our top restaurants in the Adirondacks offering live music, good food, and the chance to relive the day's adventures.
Popular Motorcycle Rides in the Adirondacks
NYS Route 3
This scenic route runs east-to-west, connecting western New York with the Adirondack city of Plattsburgh. The Adirondack section of Route 3 is known as the "Olympic Byway," traveling 170 miles from Lake Ontario to Keeseville. Top towns and villages include Harrisville, Natural Bridge, Star Lake, Cranberry Lake, Tupper Lake, Saranac Lake, Lake Placid, and Wilmington. From Memorial Day through Labor Day, drive up Whiteface Mountain's Veterans Memorial Highway for a 360-degree vista.
US Route 9
Running north-to-south, along the Adirondack Coast of Lake Champlain and into Quebec, this scenic Adirondack route is part of an All-American Road and known as the Lakes-to-Locks Passage. Travel 225 miles along the Upper Hudson River, Champlain Canal, and historic sites such as Crown Point, Ticonderoga, Port Henry, Essex, and Plattsburgh. Don't miss a stop at the world-famous natural attraction, Ausable Chasm.
NYS Route 30
A beautiful ride through the heart of the Adirondack Park and into Quebec, Route 30 travels north-to-south and takes you through some of the region's most spectacular wilderness spots. Top towns include Lake Pleasant, Indian Lake, Long Lake, Tupper Lake, and Malone. This route is perfect for enjoying Adirondack fall foliage. Attractions include The Wild Center, Adirondack Experience - The Museum at Blue Mountain Lake, and the Saranac Inn Golf Course in the Adirondack Lakes Region.
Route 28 to Lake 30
Beginning in Boonville, take this half-day motorcycle ride along the Chain Lakes up to Lake Placid. Expect some bumpy patches of road along the way. This is a great route for those looking to experience the ruggedness of mountain roads while remaining close to towns that offer plenty of fuel and food options. Notable towns and villages along this route include Inlet, Raquette Lake, Long Lake, Tupper Lake, and Saranac Lake.
Adirondack Lake Loop
Starting and ending in Lake George, this is a beautiful route for riders staying in the southeastern part of the Adirondack region. With twisty roads and beautiful scenery, you'll take Route 9 North towards Ticonderoga and loop back around on I-74. Hop back onto Route 9 in Schroon Lake and make your way towards Bolton Landing. Each checkpoint along the way offers great dining and shopping options for when you're ready for a break. This route is a total of 90 miles.