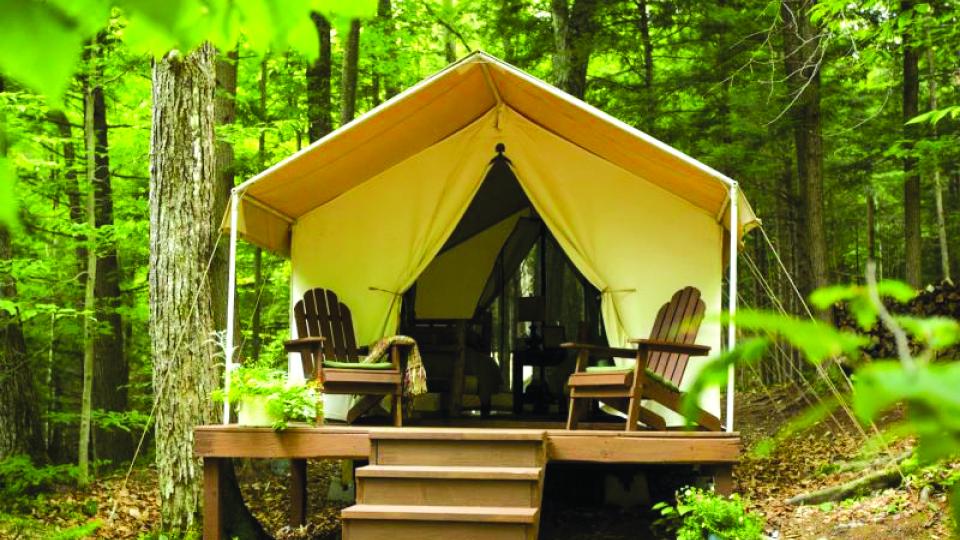 Why sleep on the ground when you can snuggle beneath a wool Pendleton blanket in a queen bed? That's glamping—glamorous Adirondack camping. Trade a battle with aluminum poles for a private canvas tent, enjoy exquisitely prepared cuisine, and experience the best of luxury glamping in the Adirondacks.

A Preview Of Two Local Glamping Camps

At Posh Primitive, four tents dot a 160-acre property near Friends Lake in Chestertown, and John and Rachael Shafer felled trees on site for the timber frame dining lodge. At mealtime, farm-fresh beans and tomatoes brighten plates and the Shafers cook bison burgers on an Argentinian-style grill. John draws on his guiding experience to suggest itineraries for anglers, paddlers, and hikers. "Go out and do your thing," he says, "then come back to base camp and tell us all about it over family-style meals."

Less than 20 miles west, Camp Orenda offers eight canvas cabins and an outdoor shower. Staff arranges guides for whitewater rafting in the Hudson River Gorge or Crane Mountain rock climbing. For a more social experience, try Park Safari in Warrensburg, where 40 tents sleep four to six people each on 26 acres along the Schroon River. Soak up summer rays on a river float—inner tubes are free for guests—and catch a DJ in the outdoor lounge on Thursday or Friday night.

More rustic than our Adirondack resorts and more luxurious than a public campground, glamping is the ultimate option for those looking to experience the Adirondack camping in style!

Just remember: New York glamping retreats are summer only, as it gets too cold in the winter. Contact Posh Primitive or Camp Orenda soon to book available glamping sites.