The Hudson River winds over 300 miles through New York State from Mount Marcy's Lake Tear of the Clouds down to Manhattan. Historic, famous and exhilarating - the river is deemed one of the top 10 whitewater rafting trips in the United States. Adirondack river kayaking and rafting trips also abound on the wild Sacandaga River, the beautiful Black River and the backcountry Moose River.
As spring's snow and ice melt, rapids on the Hudson River reach their torrential peak - creating Class IV and V rapids great for whitewater rafting and kayaking. By mid-summer, the river has mellowed to Class II & III. In autumn, Adirondack fall foliage adds the perfect photographer's backdrop for your paddling adventure. Whitewater rafting trips in the Adirondacks are a journey along wooded shores, into gentle eddies surrounded by towering cliffs.
When to Go Whitewater Rafting in Upstate New York
Timing is key as the river's force changes as the season progresses. In spring, around mid-April, melting ice and snow from the north and being fed throughout the region create torrential rapids on certain sections of the Hudson River, while calmer rapids prevail during summer and fall months. Depending on the time of year and the waterway selected, you can enjoy a family float trip interspersed with the thrill of rolling rapids or a heart-pounding traverse through serious whitewater.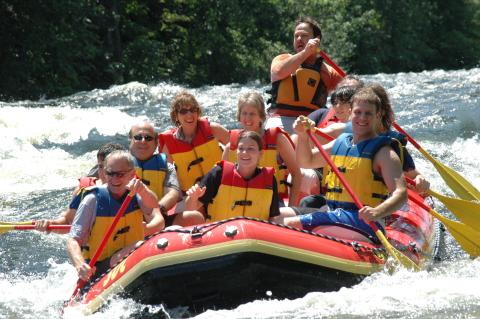 What to Wear for Whitewater Rafting
Pack your gear and get ready for a whitewater rafting adventure in the Adirondacks.
A bathing suit

Water shoes or strapped sandals

Quick-drying t-shirt and shorts (avoid cotton clothes)

Sunscreen

Bring hair ties to pull your hair back

A wetsuit, depending on the time of year

Wear wool socks in water shoes during cooler seasons

Guides and outfitters will typically provide life jackets and helmets for safety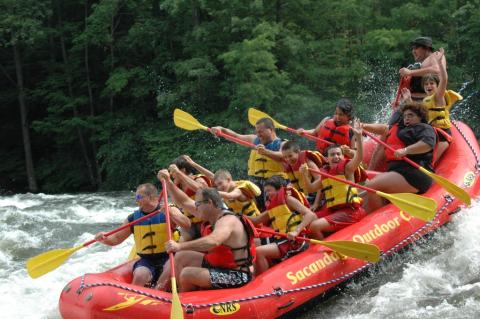 How to Choose an Outfitter
Think about the kind of white water experience you want to have. Is this a once-in-a-lifetime adventure or a leisurely family activity? Make sure the guide service and rafting guide are certified and skilled at both rafting and first aid. Families who have younger children, or who have limited experience in rafting, should consult with a guide for advice to ensure enjoyment and comfort levels while on the river.
As with all adventure sports, whitewater rafting carries an inherent risk. If you are a non-swimmer, inform your guide. Choose an Adirondack whitewater rafting guide who is known for being a skilled rafter and is a certified guide. Excursions cater to individual or group needs. Common trips include the Hudson River Gorge, middle and lower Hudson River, Moose River, and Sacandaga River. Check with the outfitter of your choice to find the best trip for your level of expertise.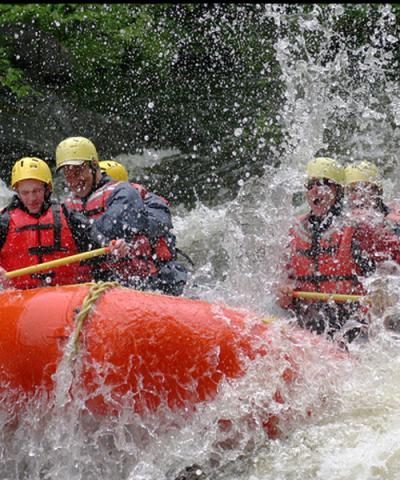 How Much Does Whitewater Rafting Cost?
Whitewater rafting in the Adirondacks is surprisingly affordable, especially with a large group or family. Prices for a half-day trip start at $50. Day trip costs begin at $100 per person, depending on the outfitter and services, and a complimentary shuttle transports passengers to their vehicles at the end of the trip.
Outfitters often offer special packages that include overnights, lodging and meals. Some outfitters also specialize in river tubing, whitewater kayaking, and overnight raft camping. Rafting costs decrease as the number of people participating increases.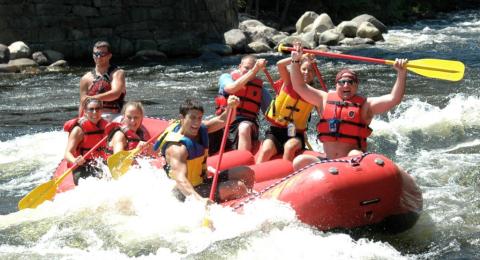 List of Whitewater Classes and Their Level of River Difficulty
Class I
Moving water with a few riffles and small waves. Few or no obstructions.
Class II
Easy rapids with waves up to three feet and wide, clear channels that are obvious without scouting. Some maneuvering is required.
Class III
Rapids with high, irregular waves often capable of swamping an open canoe. Narrow passages that often require complex maneuvering. May require scouting from shore.
Class IV
Long, difficult rapids with constricted passages that often require precise maneuvering in very turbulent waters. Scouting from shore is often necessary, and conditions make rescue difficult. Generally not possible for open canoes. Boaters in covered canoes and kayaks should be able to Eskimo roll.
Class V
Extremely difficult, long, and very violent rapids with highly congested routes that nearly always must be scouted from shore. Rescue conditions are difficult and there is a significant hazard to life in the event of a mishap. Ability to Eskimo roll is essential for kayaks and canoes.
Class VI
Class VI rapids take the difficulties of Class V carried to the extreme of navigability. They are nearly impossible and very dangerous. Class VI rapids are for teams of experts only, after close study and with all precautions taken.
New York State Law requires all boats and canoes to carry a U.S. Coast Guard-approved personal floatation device (PFD) for each person on board.
There were 16 listings found.
Displaying 13 - 16 of 16 listings