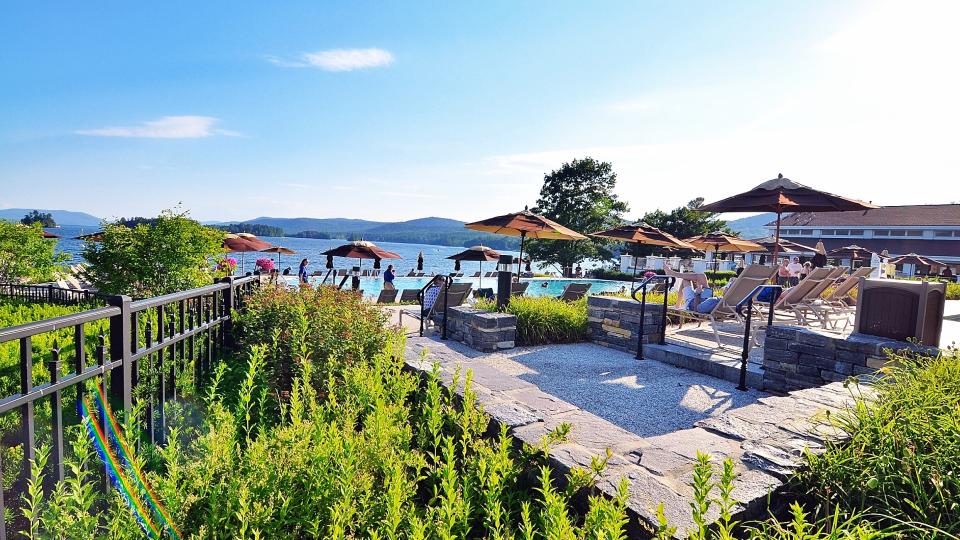 Adirondack hotels boast a rich heritage. In the 1800s, city dwellers fled summer heat and crowds for grand properties crowned with sweeping open-air porches. Once here, they sank into the wide arms of an Adirondack chair to enjoy mountain views and cool lake breezes. 
That outdoor connection still defines our wide selection of hotels, motels, and Adirondack resorts now updated with modern amenities. At the Juliana in Lake George, two-bedroom efficiency suites offer a private deck equipped with gas grill. Every hotel stay includes Lake George beach access and use of canoes, kayaks, and paddleboards. The Lake Pleasant Lodge in Speculator offers 11 rooms with waterfront views. Sip morning coffee on the outdoor patio, then stroll to rainbow trout fishing sites and great blue heron marsh habitat. Or step inside Adirondack history at the Hotel Saranac, a six-story brick structure that first welcomed guests in 1927 and is slated to reopen soon after a $35 million renovation. The landmark hotel will offer 102 rooms, an on-site restaurant, bar, and spa—and a short walk to shops, dining, and outfitters in downtown Saranac Lake. 
When you visit, don't feel like you need to leave any family members behind. The Adirondack region is a haven for dog lovers. From a large number of pet-friendly hotels to towns and shops that cater to your four-legged friends, the entire family will feel refreshed after an Adirondack stay.
In each season, for every traveler, these hotels and motels become the keystone to unique Adirondack traditions. Plan your stay today.
There were 168 listings found.
Displaying 73 - 84 of 168 listings